Random Dante






Random Dante
The inner spaces of the letter shapes were outlined with a drawing nib using sumi ink on Arches Watercolour paper, and then filled with black sumi ink or orange chinese ink using a brush.The small dots in the outer ring were made with 22,9 carat shell gold.
575 × 380 mm
The text consists of a selection of quotes (some of them with small changes) from Dante's Divine Comedy.
---
Intermissions / Pauser
Intermissions / Pauser


















Intermissions is an ongoing project. The project began with the piece I have believed and I have currently made six different versions. They are all hand-painted or drawn on watercolour paper. The text comes from Psalm 115:10 (Douay Rheims version) «I have believed, therefore I have spoken, but I have been humbled exceedingly.«
---
Strull & Goro
This project using the patterns and recipes from the Norwegian traditional pastry Strull and Goro has been ongoing for many years. Here are three different versions, one is a drypoint print, one was finished recently on request written on Fabriano Roma (handmade) paper with Dr. Ph. Martins Bleedproof White. Brause nibs and shell gold (22,9 K) and the third one is the first sketch (blue version) written with ink on paper.
---
Sombres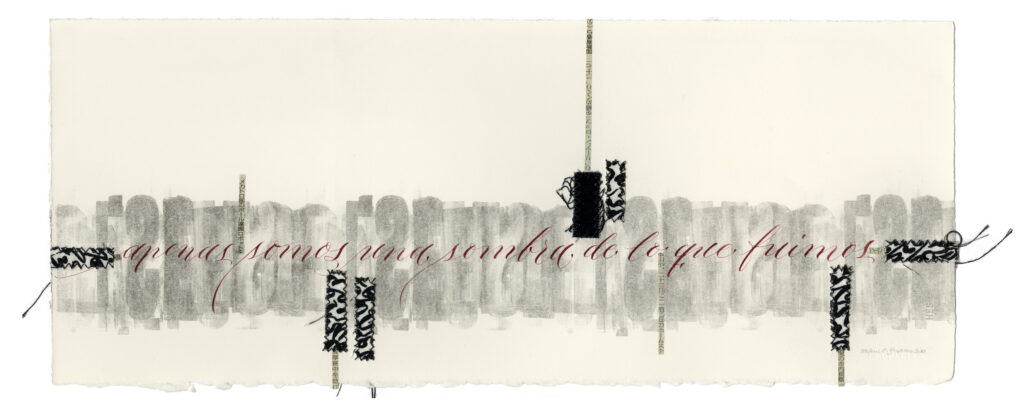 Sombres (Shadows)
Technique: Collage, Written with gouache og letterpress printing on watercolour paper. Hand stitching. The text reads: «Apenas somos una sombra de lo que fuimos» (We are just a shadow of what we were) Size: Height: 225 mm Width: 560 mm
---
Markmaking






In Markmaking I have used words I associate with the phrase mark making, whether the mark is a written one, a sound you make, a craft, a movement or a feeling. The lines and words in between the squares, were written before the squares were cut, organized and stitched on by hand. The squares are cutouts from different scraps and trials that were lying around in the studio. Instead of just throwing them away I chose to recycle them and give them a new context. The piece is inspired by patchwork blankets made out of scraps and cut-offs.
Mixed media.
Size: 584 mm x 565 mm